Tony MacAlpine-Chromaticity (2001)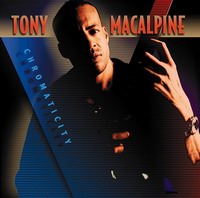 Its been about 2 years since Tony released his last solo CD "Master Of Paradise" and about 5 years since he released his last all instrumental solo CD "Violent Machine". However, Tony has been quite busy in the last 2 or 3 years working on CDs with (Planet X, Cab 1 & 2, Vitalij Kuprij, Mark Boals and Vinnie Moore). "Chromaticity" his latest CD proves to be well worth the wait. The line up on this CD consists of returning drummer Steve Smith from Tony's debut album in 1986 (Edge Of Inanity) and Bassist Barry Sparks (Vinnie Moore, Uli Roth). When I spoke with Tony back in May about his new album, he said it wasn't really like any of his other CDs and that is was melodic but heavy. After listing to his new CD I couldn't agree anymore with him, its definitely one of the best CDs he has ever made and its one of the best CDs I have ever heard. The sound quality is excellent, as is the production. The CD has a very smooth sound to it, very polished. Tony's guitar is mixed just perfectly in the mix as are the rest of the instruments. His guitar and piano tone are also some of the best I have heard. The style of the album is a cross between neo-classical, progressive metal, and Fusion. Some of the songs remind me a little bit of "Final Hour" from Master of Paradise but different at the same time.
Here is my track-by-track analysis:
1. Christmas Island: A mid tempo track that starts the CD off perfectly. It starts with a melodic keyboard intro and then the band enters. WOW! So full sounding! Tony starts of with a really nice melody, his tone at one point reminds me a bit of "The Sage" from "Evolution" the melody sounds almost Spanish. There is a keyboard break and then there is a Guitar/Keyboard dual something like "The Violin Song" off of "Premonition". With great playing all around from Steve and Barry. The guitar/keyboard unison lines are simply amazing from Tony!
2. Chromaticity: A Faster tempo track with some very nice neo-classical touches but also very progressive with some fusion touches at the same time. Tony plays some pretty incredible solos in this one.
Tony's playing in this song makes me think of drawings or colors. It sounds as if Tony is painting a picture with the melodies. Steve ends this song with some really great drumming.
3. City Beneath The Sea: A Slower Melodic/Ballad. This is one of the best songs I have ever heard; it is close to ("Tears of Sahara" from "Maximum Security" and "Champion" "Capistrano" from "Freedom To Fly") but still a lot different at the same time. It has 3 guitars an Acoustic, a Heavy Electric rhythm, and Lead one. This song has so much feel to it, a classic for sure. A lot of Haunting melodies on this one, It almost makes you picture that you are near the sea. Very tasteful.
4. Digitalis Destructi: A Mid tempo song that sounds very progressive. Very heavy yet still very melodic. Its one of the heavier songs on the CD. This melodies in this song are very unique sounding.
5. Isis: This is a progressive sounding song that starts out with the piano, and then has a great rhythm and melody line that combine Tony's heavy 7 string with the melodic lines of the piano and lead guitar.
6. Prince Of Light: This one is also one of my favorites on the CD, it has a great melodic theme, and a great fusion like solo by tony. Very melodic indeed! Some of Tony's best playing is in this song.
7. Still Valley: This is without a doubt the heaviest song I have ever heard tony do! But it's still so good! Tony is really making use of his 7-string guitar with the rhythm on this one as well. The melody is very unique sounding.
8. Avenger: This is a neo-classical tune, great playing from Tony on Guitar and Keyboards. The song starts out like something from a horror movie, very good indeed! Steve's drumming is excellent and ends the song is a very unique way, with some great drum fills.
9. Eye Of The Soul: This song starts out very slow and soft and then takes a 360 turn, it is without a doubt the most complex song Tony has ever wrote. With great musicianship all around.
10. Chopin-Etude Nr.8 Opus 10: This Chopin piece is played beautifully, Tony really shows his piano skills on this one. The recording of this song is excellent as well.
The more I listen to this CD the more I hear and the more I like it. Tony proves once again why he is considered a Master Musician. If you looked in the dictionary for the definition of "Melody" it would have Tony's name right at the top. He is one of the world's greatest guitarists, keyboardists and one of the greatest composers of our time. Tony's Maximum Security is still my favorite CD but in my opinion this is probably the best CD tony has released since then, it's that good! I think every fan of Tony's solo work will like the CD and also fans of Planet X, Cab and progressive music will like this CD. Its hard to pick a favorites because all the songs are so good. You can play this CD from start to finish and not want to skip any of the tracks. I mentioned earlier that some of the songs remind me a bit of my favorite song "Final Hour" from Tony's last CD "Master Of Paradise" the only instrumental track on that CD. Now if we can just get tony to do a world tour!
(11 out of 10) yes its that good!
---
You can Pre-Order Chromaticity through any of these online stores.