PLANET X : Moon Babies (July 2002)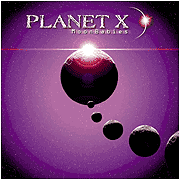 I guess that no introduction is needed for Planet X and especially for the guys who play in this band. I remember very clearly that the guys began working on "Moon Babies" sometime in April 2001. They were very busy rehearsing and recording at that time, though everything stopped for a while because of their Australian tour. The word was spread worldwide beginning of the summer - a live album was about to come out before the new studio one ("Moon Babies"). Time was passing by, the band was busy working, recording and touring but no album was available in stores. The end of 2001 came and nothing was heard from Planet X's side. The "Live From Oz" was supposed to be released sometime in autumn and it wasn't out, "Moon Babies" was supposed to be released in late March 2002 and nothing was heard about it. What was truly going on at Planet X's field? Well, in order to make a long story shorter I will mention that the band spent a lot of time working very hard on "Moon Babies" and promoting its (and their) name's) [tours with Yngwie Malmsteen, Steve Vai]. It would be really a shame to release a new album (and especially such a great album) ignoring the "marketing" side of things. We must not forget the fact that the members of the band are normal guys like all of us and they had to live their lives too (Tony MacAlpine got married for example).

Sometime in late October 2001 (a little before the appearances of the band in Bulgaria and in Romania) fans could get a DOUBLE CD entitled "Making Of Moon Babies #1" from Derek Sherinian. Getting this CD and listening to it someone had the chance to check the drums parts that Virgil had recorded and the bass lines. Guitar was included only in one song ("70 VIR") if I remember very well and only a few keyboard tunes were recorded at that time too. A little later, only a few fans had the chance to get another CD entitled "Making Of Moon Babies #2". The second CD was much more completed than the first one of course, though the guitars were still missing. It was obvious that Tony MacAlpine was the last one who entered the studio. Sometime in February certain persons got a CD entitled "Moon Babies - Rough Mixes" - YEAH, finally 3-4 songs included guitars and moreover Tony had recorded some solos too. It sounded really great and personally I was feeling very excited. The anticipation was very big and it got bigger finding out that the songs were changing and getting better day by day, week by week. There are certain songs included in the "Moon Babies" album that sounded totally different in the beginning - take "70 VIR" as an example. This is a song that Tony MacAlpine composed and it is something that you will understand from the very first moment you'll listen to it. The version of the song included in "Making Of Moon Babies #1" is a PURE MACALPINE-ISH song (in the vein of "Still Valley", "Digitalis Destructi" and maybe "Isis"). On the way the song changed a lot and the one included in "Moon Babies" sounds pure Planet X - this is not bad of course, but I am sure that the die hard MacAlpine fans will adore the first version. Another good example is the second song of the album - "The Noble Savage" - no one could ever guess that a silent and mid tempo jazz/fusion oriented song (as someone listened in the Making Of Moon Babies CD's) would turn to be such a heavy progressive orgy.

The album wasn't finished 100% until the very last day of May (31st). Simon Phillips and Planet X spent a lot of time inside the studio recording, mixing and mastering. Billy Sheehan is one of the special guests in "Moon Babies". The other two guys who played the bass are none others than Tom Kennedy (who had also played in "Universe") and Jimmy Johnson (who had played in Derek's "Inertia" album). I remember very clearly contacting Derek on the 31st of May and telling me word by word "Moon Babies is finished". The funny thing is that for more than two months each week that we talked I used to ask him the same thing "are you still recording?" and his answer was always "yes". Learning that the album is FINALLY finished I felt really happy. I knew that the "final countdown" had already begun. Over the next days I was thinking about the new CD all the time - I was counting the days and the hours.

I got the FINAL CD in my hands on the 10th of June. It was a usual sunny Greek afternoon when I listened for the first time to the complete album ("Moon Babies"). My first impression was that the final CD differed a lot from the "Making of …" ones. It wasn't ONLY the sound, but mostly the fact that the songs are so "rich" - they recorded many new tunes, numerous solos, they came up with new and fresh ideas and generally I had the feeling that I was listening to everything for the very first time. There can't be a comparison between the productions of "Moon Babies" and "Universe" - "Moon Babies" has an amazing sound, very clear and very heavy. "Moon Babies" is a much more complicated album but a lot catchier at the same time too. Though, I believe that some of the funky moments of "Universe" are missing (or at least I haven't personally "identified" them yet).


Moon Babies : Two things that truly impressed me A LOT (except the unbelievable changes) are Derek's solo which is simply FANTASTIC and Tony's VERY heavy sound. This is why I love this band so much, they are not afraid to sound REALLY HEAVY. The bass solo is another highlight of the track for sure (I bet that a lot of guys will end up with a headache listening to what Virgil is playing during it). The listener must pay attention in my opinion at Tony MacAlpine's solo where in the beginning of it his guitar sounds like a baby crying. This is truly unbelievable. I have seen Steve Vai stepping on this guitar on stage, touching it with his tongue or even beating it and coming up with wonderful sounds but I haven't ever heard in my life something like this before. Check it out yourselves. The only thing that I know for sure is that Tony is a genius and only HE can do such things.

The Noble Savage : This is probably my FAVORITE PLANET X song EVER. It is true that this is the song that Tony shines most. The jazzy/fusion intro is fantastic - Tony's sound is so sweet that it makes someone want to cry of happiness. Though, what got me really excited is the heaviness of the track and the fast part in the middle of the song where Tony is kicking really badly. This song is the DEFINITION OF PROGRESSIVE FUSION. I am not going to say a thing more - just listen to Tony's solo (his best ever?).

Ataraxia : Listening to this one someone understands immediately that it is written by Virgil. The truth is that it could have been included also in Derek's "Inertia", though it is a classic Planet X song. Especially the "chorus part" is 101% Planet X - the well known sound that Derek and Tony have. I like it a lot because it is very melodic.

70 Vir : Uhmmm. What can I say about this one? Things are a little strange. The truth is that I have listened to 3-4 different versions of this song. The VERY first version was a 101% MacAlpine sounding song (very close to "Digitalis Destructi"). The version included in "Moon Babies" is a classic Planet X song though. I believe that it is by far the catchier song of the album and the easiest one to get into. The only thing that I don't like is the fact that they CUT Virgil's small part after the "chorus" adding a "break-explosion". THOUGH, listening to Tony and Derek being really violent and "competing" each other made me forget everything. I am convinced that Derek is playing a couple of his sickest and craziest solos EVER in this one.

Micronesia : It begins in a strange way for a Planet X song (too soft maybe) but it gets heavier very fast. I believe that Derek really shines in this one, sounding very close to the 3rd part of Apocalypse (I am glad that they changed the title, I like more the new one - the old one was "Boy With A Flute").

Interlude In Milan : This is a mid tempo song, a little soft and into fusion for sure. Tony's solo is really impressive and one of the heaviest ones he has ever played - his solo is NOT fusion styled. A little after the middle the song gets really heavy with the guys soloing and at the end of Derek's solo Virgil plays a couple of unbelievable "double bass drumming" tunes and moreover there is a small solo of his that the fans will love for sure.

Digital Vertigo : This song is sounding closer to "Universe" than any other included in "Moon Babies" (in my opinion of course). It is really melodic - with hooky lines and rhythms - but very complicated too. I must not forget to talk about Derek's solo which is truly great (you have to listen to Virgil's playing and how GREAT the bass sounds - very funky).

Ground Zero : There's been a lot of talking about this song in Modern Drummer Magazine. I have read Virgil's interview there and I remember very well what the editor has written. Well, this song is pure Virgil Donati guys. The middle part (chorus) is classic Planet X once again, but the beginning of the song is very much influenced from what he had done with On The Virg. Listening to this song you will distinguish in a glance of a second the AMAZING WORK that Simon Phillips has done - I can't remember of another album that the DRUMS sound SO clearly. I can listen to every detail that Virgil's playing and you have the feeling that he is in front of you beating his drums (especially if you have seen him performing live and you can imagine him while listening to the album and this song specifically, you will be knocked down for sure). Tony MacAlpine's playing is also impressive as he comes up with a couple of unbelievably inspired fusion riffs. I bet that a lot of fans will love this one and it will be their favorite song from "Moon Babies" - it is a song that includes a lot of changes in rhythms and feelings. Tony is playing a dramatic solo, one of the solos that HE can only play (if you know the story behind this song, it gives you the idea that in the beginning he shows his mourning about what happened but on the way the solo gets "brighter" and he wants to express that the next day can always be a better day - at least this is how personally I understand his solo part).

Midnight Bell : The first time ever that I listened to this one with guitars recorded was in a CD including "Rough Mixes" of the songs. Since that moment this track was one of my favorite ones. This one is also very close to On The Virg but Tony's signature is on this song and his playing is REALLY HEAVY once again ( I truly love saying this). I love Derek's "space ideas", I love Tony's solo, I love the BASS solo, I love Virgil's beat everything sounds so great in "Midnight Bell".

Ignotus Per Ignotum : Most of the fans already have listened to "Ignotus" because it was included in "Live From Oz". The only thing that I will say about this one is that there is AN AMAZING SURPRISE AT END OF THE SONG. Nothing else.


I am not going to compare "Moon Babies" to any other album (DT etc.) because Planet X have their own personal style and they can be compared only to themselves. Personally I don't care about what the other bands are doing, Planet X have NOTHING TO PROVE TO ANYONE. Well, "Moon Babies" is finished and I believe that it is the ONLY album I have listened to the last years that HAS NO BOUNDARIES. There are no limits for Planet X. This is not a Heavy Metal album, not a Progressive Rock album, not a fusion/jazz one. Planet X is simply Virgil, Derek and Tony. Do I need to say that "Moon Babies" features their best performances ever? Listen to "The Noble Savage" and you'll find it out. If you are expecting to listen to a progressive rock album then you are going to buy the wrong one - most fans nowadays name "regressive music" (aka Dream Theater) as progressive. The real progressive masters are here in front of you : Derek Sherinian, Tony MacAlpine and Virgil Donati (aka Planet X). Maybe Virgil isn't as famous as Mike Portnoy is but Mike will hide of fear when he'll listen to Virgil's playing - NO ONE upon this planet can be compared to Virgil Donati, the guy is coming from Planet X (whoever disagrees with this I challenge him to see Virgil playing live one day). Tony MacAlpine is one of the most famous guitarists of all times - he wasn't ever the #1 name of the scene but he has been here since 1985 and this means a lot. When other guys come and gone, Tony is still here and kicking badly. There are guitarists who can play as fast as Yngwie Malmsteen, as complicated as John Petrucci, as sick as Steve Vai - and so what? They are clones, they are "replicas". No guitarist in the world has Tony's touch, no one can come up with the melodies that he composes. I am convinced that you can put Tony into the heaviest and less melodic band of the world and he will make it sound so wonderful - the guy has the MAGIC TOUCH. Derek Sherinian is the "veteran" of the band (although he is the youngest one). What can someone say about Derek? Hey, the guy at his early 20's was touring with Alice Cooper and KISS. I think that there's no need to mention something more.

I believe that the album talks by itself. There are 3 "hits" AT LEAST included ("Ignotus Per Ignotum", "Moon Babies" and "70 Vir") and no fillers at all. You must be sure for the fact that there are not even 2 tracks included that sound similar. Each song differs from the other and it will take you A LOT OF time to understand it completely and get into it. Personally I have been following the structure of the album since the first second and still there are things that I discover while listening to it - and this is exactly why I never get bored listening to Planet X. "Moon Babies" is not just an album, it is a masterpiece.
Review by: Miltos